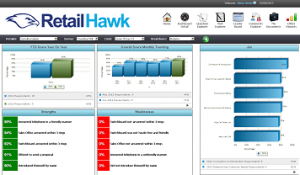 With the ultimate focus on providing our client's with the most exclusive user experience and control, our in-house professionals ensure that these desktop management applications are custom-made to the specific requirement and usability criteria of our clients. We realise that the strength of your applications also depends on its function adaptability. With our exclusive Desktop Application Development services, we assure this adaptability. Our experienced team of software and design professionals will analyse and understand your business module and then create a unique architecture for your bespoke desktop application development.
This architecture is then followed by our programmers to develop that exclusive desktop application. Our marketing and client executives maintain continuous communication with our clients, and thoroughly communicate the explaining work process and developments. With our competency in application development and not being satisfied with the technical restriction of these traditional Desktop Applications we have taken a different approach to their development and deployment. This difference in approach has resulted in the benefits and flexibility of web technologies and deploying these straight to the desktop, thus increasing flexibility.
Our expertise lies in the creation of the most exclusive, rich-featured, technology savvy and user friendly desktop applications specifically made to suit the clients business requirements. We create exclusive applications to provide complete convenience to our clients, like customer relationship management, business operations, clients/server needs, accounts, enterprise-level solutions and many more. Our in-house excellent creative team of graphic and application designers develop desktop applications, they ensure that these user-friendly graphical user interface (GUI) is extremely rich-featured and incorporate enough flexibility to adapt to the ever-changing business environment. We are highly proficient in Desktop Applications including Flash Desktop Applications, Remote Desktop Application in our creation forte.
We also put an emphasis on features such as the safety and security of your information, logging, data archiving and backups, fail-over, and automatic file recovery. Our programmers are highly skilled in the use of MS SQL server, Mysql, Java, C#, and VB.NET and we use these in the creation of exclusive and custom-made PHP desktop applications. Similar benefits with customisation and rich-featured applications can be realised by our team of in-house professionals not only in small specific requirements but also in integrated applications. Using a range of technical expertise from Java/J2EE and Microsoft .NET to open source low-cost technologies such as Javascript we ensure that business objectives and specific applications of business are realised. These actions are all performed to the smallest time-frames.