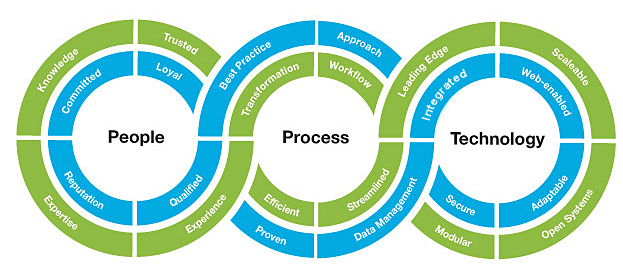 The Byte Digital approach is what sets us apart. Our goal is to help your business by reducing costs and increasing your efficiency. We are not here to sell you things you do not need just because it is the latest gimmick.
Sometimes the best solution is the cheapest on the list, other times it will be the most complex but either way you will get the best solution for YOU.
We recognise that there are an infinite number of IT suppliers you can work with, but that ultimately it is people that make the difference. So when all key elements are met, we know that people tend to choose to work with people that they like, people that they feel they have a good rapport with.
We acknowledge this and believe that this is where we stand out from our competitors.
Keeping your project on track
Our consultative approach delivers a solution appropriate to the level of service you require – whether it's in-depth project planning, scripting assistance, technical architecture consulting, custom development, legacy system data conversions or advanced training.  Our flexible and customised implementation is focused on fulfilling each customer's unique needs and delivering exceptional satisfaction, regardless of the scope of deployment.
But underlying all our services is a deployment methodology that has been developed, fine-tuned and proven through years of experience and hundreds of successful projects.  While the specific goals, tasks and deadlines around each customer's deployment are unique, the structure of our methodology aligns expectations and helps keep every project on track. Through all the phases shown, our goal is to educate and empower customers, giving them a high level of independence, while backing them up with support that's just a call or mouse click away.

The combination of this methodology and technical innovations results in a solution that is delivered quickly and cost-effectively across an enterprise, business area or process.
Scope and Plan
Confirm project scope and objectives
Develop project plan
Project kickoff
System administrator training
Quality checkpoint
Requirements Planning
Gather and document business and technical requirements
Analyse and design business processes
Assess solution gaps
Procure hardware
Design solution components
Finalise design documentation
Quality checkpoint
User Design / Construction
Build and unit test solution components
QA-test solution components
Software configuration
Component implementation
Integration test of complete solution
Quality checkpoint
Testing
Pre-production deployment
Final system test
Train the trainer training
Quality checkpoint
Cutover
System deployment
Finalise implementation documentation
Transition to Product Support team
System goes live
Project closeout